Alif Semiconductor's Ensemble™ family of microcontrollers deliver at least two orders of magnitude higher Edge AI performance than traditional microcontrollers, enabling heavy machine learning workloads at the lowest power consumption levels possible for vision, voice, and vibration to run on a MCU for the first time.
This will change the way developers think about what they can achieve when designing wearables and systems for security, retail, and infrastructure. Ensemble devices and kits are now fully available to enable breakthrough AI/ML designs.
PLEASANTON, Calif. September 26th, 2023– Alif Semiconductor, supplier of the most secure, power efficient Edge AI-enabled MCUs and fusion processors in the market, today announced full availability of its Ensemble product line through global distribution channels.
The Alif Ensemble 32-bit microcontrollers and fusion processors are designed to deliver an uplift in performance of at least two orders of magnitude compared to executing similar workloads on traditional 32-bit MCUs across a wide range of AI models. The uplift stems from Alif's architecture that efficiently integrates a microNPU next to each CPU core. A clear example: using one microNPU with one CPU core to run an object detection model reduces inference time by 74x compared to using its CPU core alone. Since Alif's CPU core already represents a 10x AI/ML performance increase when compared to the core used in traditional MCUs, the total performance uplift reaches 740x. This uplift in performance is not at the expense of energy consumption because in this example each object detection inference consumed only 0.27 mJ, which is also two orders of magnitude less than typical MCUs.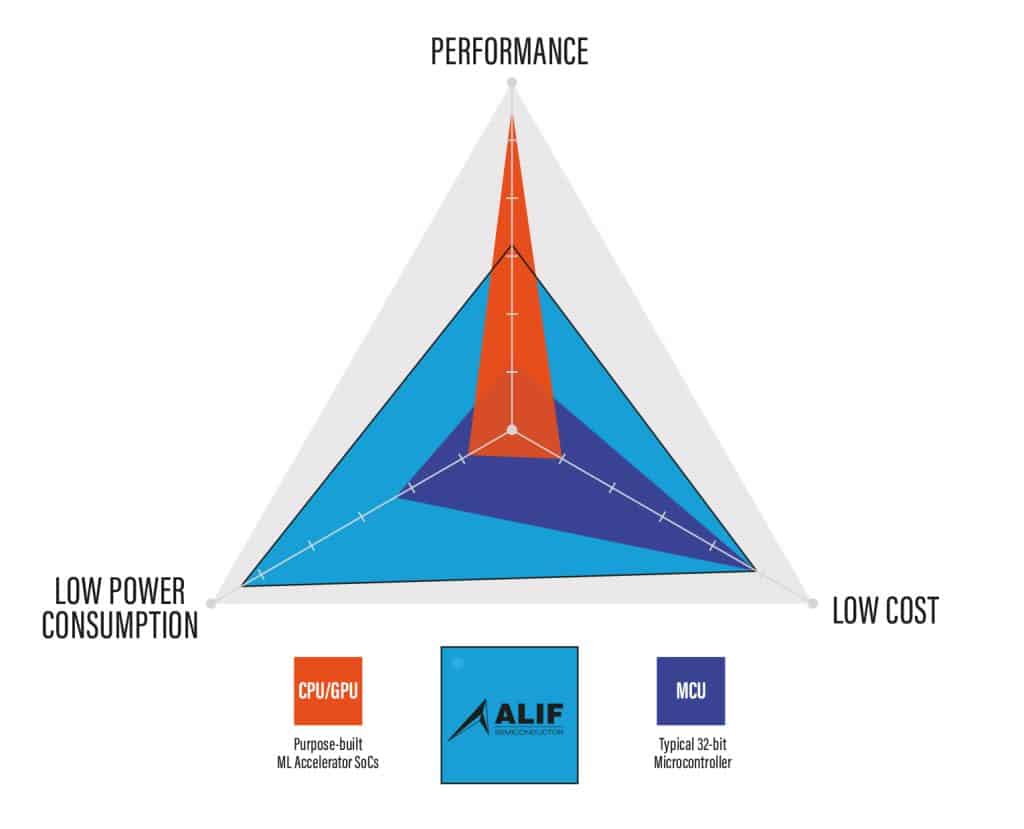 "Early on we saw a huge gap in the market." said Mark Rootz, VP Marketing, Alif Semiconductor. "There are many Edge ML applications that require 50 to 250 GOPs to become useful. Typical 32-bit MCUs can't come close to that performance level, so to find a solution developers had to jump all the way to GPU-based accelerators at about the 1000 GOPs level which is extreme overkill in terms of power, size, cost, and complexity. Only Alif fills this gap in the middle. This is the sweet spot for battery-powered products on the Edge."
Alif Ensemble devices span a scalable continuum of single-core and dual-core RTOS MCUs using powerful Arm® Cortex®-M55 CPUs with optional Arm Ethos™-U55 microNPUs for machine learning acceleration, and continue on with triple- and quad-core fusion processors that add Cortex-A32 CPUs to enable high-level operating systems such as Linux. Compatibility of architecture across the line ensures software re-use from low-end projects to high-end projects.
High security is a cornerstone of every Ensemble device, where an isolated portion of the chip manages a strict security policy throughout its entire lifecycle. Application code and machine learning models are safe from IP theft through robust readout prevention, plus code originality and integrity are preserved to prevent malware attacks. Secret and private data on the device and over communication channels are shielded from malicious access by means of extensive cryptography.
In addition to a perfect mix of integrated memory, peripherals, and power conditioning, Alif's unique aiPM™ technology extends battery life by automatically powering on only what is needed, when needed across the entire device for the most efficient solutions.
Alif is introducing a feature rich Application Kit specifically targeting Edge AI applications that minimizes the time needed to bring up and benchmark performance and power efficiency of machine learning models using live data collected from the camera and many other sensors on the board. This AI/ML AppKit and Ensemble devices are available for order from distributors today.